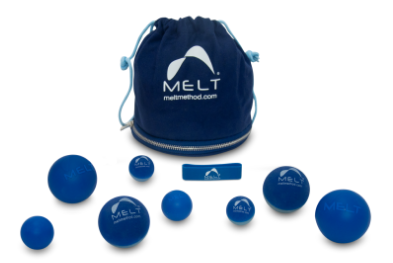 Hand & Foot Treatment Kit (Englisch)
CHF 55.00
Produktbeschreibung
MELT Hand & Foot Treatment ist eine innovative Selbstbehandlungsmethode, welche in nur ein paar Minuten Wunder bewirken kann.
Folgende Symptome können durch die Stimulation von Händen und Füßen mit einer einfach erlernbaren Methode reduziert werden:

Schmerzen in Händen, Füßen, Rücken, Nacken

Fersensporn, Nervengeschwülste, Hallux Valgus

Gelenksentzündungen, Karpaltunnelsyndrom, schnellender Finger

Kopfschmerzen, Verdauungsprobleme, Schlaflosigkeit

Das MELT Hand & Foot Treatment Kit besteht aus:

Acht MELT Behandlungsbällen, zwei jeder Grösse und Härte

Ein Hallux Reducer Band

Zwei Trainingsanleitungen

Alles in einem praktischen Beutel

Die Bälle und Bänder sind latexfrei. Die Selbstbehandlung können Sie jederzeit und überall durchführen, ob in der Arbeit, zu Hause oder auf Reisen.
Bedienungsanleitung auf Englisch

Product Description
The MELT Hand and Foot Treatment Kit includes all the tools for the MELT Hand and Foot Treatment, an innovative whole body technique
The MELT Hand & Foot Treatment Kit includes everything you need to start feeling better now: 8 MELT Treatment balls (2 of each size), 1 Bunion Reducer Band, and 2 illustrated instruction guides, all in a convenient travel case. The balls and band are latex free.
By stimulating the hands and feet, this easy-to-learn treatment can help reduce these common painful symptoms in just minutes a day:
• hand, foot, back, and neck pain
• plantar fasciitis, bunions, neuromas
• arthritis, carpal tunnel syndrome, trigger finger
• even headaches, gut issues, and insomnia!
These quick self-treatments can be done anywhere – home, work, or travel.